Are you looking for a Bus Accident Lawyer?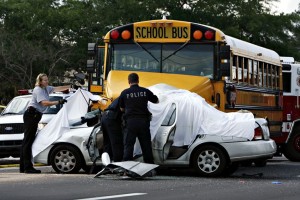 Public transportation is an essential part of life for many in the Tampa area. The citizens of Tampa rely on public transportation every day. Unfortunately, public transport officials don't always follow through with their duties.
When these officials don't do their jobs, it can often lead to serious injury. If you or a loved one have been involved in an incident with public transportation, call Esposito Law Firm P.A. right now, a Tampa bus accident attorney and get the help you need to secure the compensation you deserve.
Accidents involving public transportation often involve many more people than the average car accident, and therefore gain much more public attention. This could mean the development of a class-action lawsuit, depending on the severity and number of plaintiffs involved. Common causes for these accidents include negligence, general error by the driver, faulty parts, poor maintenance, poor driving conditions on the road, and many others.
The bus companies have huge teams of lawyers to advise them on how to give you the smallest compensation possible. Victims of bus accidents are usually rushed through the claims process, being asked to answer key legal questions without an attorney present. You need to hire a Tampa Bus Accident Attorney. This attempt at rushing through the claims process could wind up costing you a lot in terms of your compensation. Don't fall victim to the bus company's legal tricks, call Esposito Law Firm P.A. right for a team that will fight back against the big bus companies, and secure your rightful compensation.
It is never the passenger's fault in the event of an accident involving a public transportation vehicle. Don't let them bully you out of your compensation. If your driver or bus company has let you down, contact Esposito Law Firm P.A., and get a team that will fight for your compensation. You can call any time of the day to speak with attorney Brian Esposito about the details involving your case.
Call our office anytime of the day to speak with attorney Brian Esposito about your case details.
The laws which govern whether criminal history records may be expunged or sealed include Florida Statutes Sections 943.0585 and 943.059.