Brian J. Esposito is the founder of Esposito Law Firm The emphasis of Mr. Esposito's practice includes representing victims of auto accidents and wrongful death claims. Brian Esposito was born in Queens, New York. He was admitted to the Florida Bar in 2008. Brian received a Bachelor of Arts Degree in Psychology from Hofstra University in Hempstead, New York. And earned his Juris Doctor from Florida's first law school and top-ranked trial advocacy law school, Stetson University College of Law in Gulfport, Florida.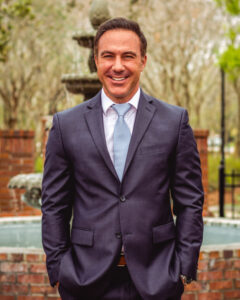 Car Accident Lawyer Tampa and Daytona Beach
Mr. Esposito joined an Insurance Defense Firm in 2012 to better understand how large insurance companies defend against accident victims. This experience allowed Mr. Esposito to better prepare his cases from the injured's standpoint. While employed at this Firm, he handled hundreds of cases in litigation.
Prior to his insurance defense experience, Brian was a Criminal Defense attorney in the Seventh Judicial Circuit where he represented clients in cases punishable from five years to life in prison. From this experience, Mr. Esposito conducted numerous jury trials, non-jury trials, and motion hearings. Mr. Esposito is an aggressive attorney who is not afraid to go to trial!
Mr. Esposito was the co-founder of the University of South Florida's Legal Aid Clinic, and a coach for the Special Olympics. In his spare time, Brian used to volunteer and provide free legal advice to students attending the University of South Florida.
Brian resides with his wife, Mary, and their two boys. Outside the office, he enjoys hiking, cooking, playing soccer, basketball, tennis, and chess.
Hofstra University, Hempstead, New York, 2001 Stetson University College of Law, Gulfport, Florida 2008
Hillsborough County Bar Association Young Lawyers Division KIAN Network Co-Founder of USF's Legal Aid Clinic